The Guora Gate, known by Rethymniots as Megali Porta (the big door), is still one of the main entrances to Rethymno's old quarter. An arched stone portal just 2.6 metres wide, for nearly 500 years this narrow opening is all that has remained of the Venetian town's walled fortifications.
Today Megali Porta is flanked by a travel agent and souvlaki bar, and they're both doing a roaring trade. As temperatures soar, along with the number of tourists, there's more pedestrian traffic than ever through this ancient gate.
I first walked through Megali Porta on another sweltering July day as a young backpacker. It was my first trip to Crete and I'd swung my rucksack on top of a battered bus in Heraklion, heading for Chania province; Rethymno was the first dusty interchange. With my gaze fixed on Crete's south-west coast, I spent just a few hours in the town, but it was long enough to feel its energies. I vowed to return, but a decade would pass before I did.
On every trip to Crete since, making time to explore this remarkable city and the province that shares its name, has been an abiding passion.
What sets Rethymno apart from Chania and Heraklion? Its scale for sure (Rethymno's resident population is not much more than 45,000); its natural elegance and sweeping sand beach; its magical old quarter (the most intact of all Crete's medieval towns) with its floral canopies and fine hospitality offerings. It's all of these things and more.
But unpicking what makes Rethymno Crete's 'cultural capital', goes beyond its aesthetics and history, beyond its centres of academic learning, beyond its love of carnival and Renaissance music festivals: it's about the character of Rethymniots themselves – a community that radiates a creative energy born of combining ancient tradition with flair and inspiration. Rethymno's character is all about its people, people like hotelier Katerina Xekalou.
The most intact of Crete's medieval towns, Rethymno's old quarter is a labyrinth of alleyways created by the Venetians in the 15th century.
Precious legacies
A cluster of beautifully renovated Venetian dwellings in the Old Town, Avli has been delighting guests for more than 30 years. With its renowned restaurant serving classic Cretan cuisine often infused with a contemporary twist, along with 12 luxurious suites, Avli is at the very top of the Cretan hospitality scene. But like Rethymno itself, it's the elusive 'culture' of Avli that sets it apart.
A true pioneer of the local hospitality industry, Katerina Xekalou's journey to create Avli began in 1986 when on a return trip from Athens to her family home, she came across a beautiful but derelict residence in the heart of the old town. At its centre was a sublime walled courtyard built in Venetian times.
No-one had attempted before to transform such a property (set in the then decaying Old Town) into a high-end hospitality business. The challenges faced by Katerina (a graduate of Political Science at Athens' Law School) were immense, not least winning local hearts and minds to the idea that sensitive development, offered a commercial lifeline and cultural resurgence to a long-ignored part of the city.
So began Katerina's mission: to develop a fine restaurant and hotel, immersed in Rethymno's history, inspired by her memories of childhood, and infused with the essence of Cretan life. And at the heart of Katerina's concept was the courtyard.
"My childhood summers rolled seamlessly into a courtyard full of voices, laughter, games, and life experiences," says Katerina, "with a large loving family of uncles, aunts, cousins, friends and visitors, sharing feelings, flavours, fragrances and dinners, under the watchful but so loving gaze of my grandmother Penelope."
An all-suites hotel with award-winning restaurant, Avli celebrates its 33rd anniversary this year. Katerina's labour of love, realised over three decades, has shared her family's legacy with thousands of guests.
"I imitated what I learned," she says. "It's about being welcoming, being warm, and giving guests the best we can. We want to create a place where people always want to come back."
As a member of the Yades Greek Historic Hotels Group (which celebrates Greece's cultural heritage by uniting properties of exceptional historical significance), Katerina personifies the group's mission. Along with Yades' other 17 properties across Greece, Katerina's philosophy is about providing guests not only great food and accommodation, but sharing precious legacies.
Katerina's roots, like most Rethymniots, lie in the province's interior. The courtyard of her childhood memories is in Akoumia, a small village 40 km south of Rethymno, and it's in such hamlets that this region's magic is perhaps at its deepest.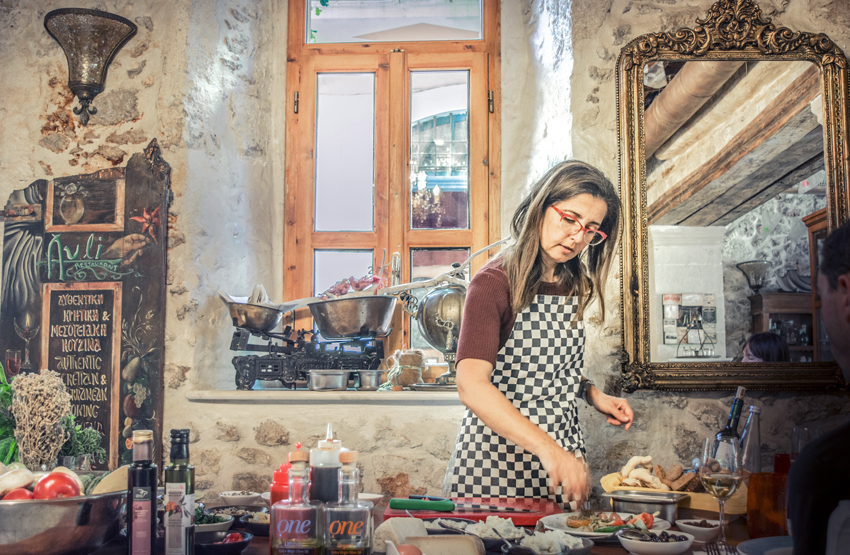 Katerina Xekalou at Avli
Into the province
Surrounding Rethymno, its 1500-square kilometre province is one of Crete's most remarkable regions. A handful of roads branch south from the town to the hinterland; ribbons running first through gentle hills which then pick their way through towering gorges, and around massive round-shouldered mountains before diving down to the Libyan Sea.
The route heading south-west, signposted to Atsipopoulo, is the old road to Chania. Another, dropping due south, runs for a dozen kilometres before bending east to Spili (famous for its spring waters and weaving) and on to Agia Galini. A right turn before Spili will take you through one of the most awe-inspring gorges in Crete – Kourtaliotiko – and on to Plakias, where nearby some of Crete's most idyllic and accessible beaches are to be found.
As always, history and legends walk with you along this rugged and beautiful coast. Attacked through the centuries by invaders, clung to by tiny isolated communities, dotted with ancient spiritual retreats, this is a timeless land.
Forty minutes south of Rethymno are some of Crete's finest beaches, untouched by large-scale tourism. Above, a cove at Ammoudi, four kilometres from Plakias.
Faith and resistance
Twelve kilometres east of Plakias, Preveli Monastery stands high above a tiny and isolated palmfringed beach. Active in rebellions against Crete's Turkish occupiers in the 19th century, and dating from the Middle Ages, today the monastery is more well known for the exploits that took place here during WWII. It was here in July and August 1941 that hundreds of Allied soldiers who had evaded capture after the fall of Crete were spirited away by submarine under the noses of their Nazi pursuers. Having been given refuge in nearby villages, and then by the Preveli monks, the soldiers' escape was the result of the extraordinary bond created between the troops and local people who risked their lives for harbouring them.
East of Preveli are the tiny hamlets of Agios Fotini, Triopetra and Agios Pavlos – once fishing villages, now outposts built for low-key tourism on a coastal landscape hardly altered over centuries. For a day trip, Triopetra's the pick, with its virtually pristine seafront adorned by a handful of laid-back tavernas.
If you're heading back to Rethymno and have time to spare, a turn-off west of Spili offers the chance to savour one of Crete's best kept secrets: the Amari valley. Accessed through the village of Gerakari, (famous for its succulent cherries), the Amari lies cradled 500 metres above sea level between the mighty Mount Ida and the Kedros mountain range. The Amari is a magical labyrinth: country lanes shaded by cypresses, oaks and pines, connecting tiny hamlets largely untouched by tourism. Between the villages, a patchwork of fields, of citrus and vines, all nestling up to some of the oldest olive groves in Europe.
Every road, every path, in this remarkable area opens its own door to history. From the Amari, take the road north and it's not far to Arkadi Monastery, 23 km southeast of Rethymno. It was here during the 1866 Cretan revolt against Ottoman rule, that more than 900 – mostly women and children – sought refuge. After three days of battle against the Turkish forces, close to being overrun, the Cretans chose self-immolation rather than surrender. Their awful sacrifice brought worldwide attention to the cause of Cretan independence, and ultimately to Crete's unification with Greece.
Resistance, heroism, and sacrifice are of course traits not unique to this locale; they are defining qualities of Cretan identity, but nowhere are their legacies more powerfully felt, than here in Crete's inspiring heart.
This article was first published by Neos Kosmos (Melbourne).