Authentic and largely untouched by major tourist developments, Spili combines its low-key tourism with being a market town and administrative hub for the local agricultural industry. Set below the towering Vorizis mountain, the village is famous for its cooling spring waters that cascade from lion-head fountains (kefalovrissi) at the main plateia, with its stretch of cafes shaded by plane trees and offering fountain-side refreshments.
And there's a precious link to Avli and Raki Bar Raki here. In the 1960s, Yannis Papadakis, uncle of Avli founder Katerina Xekalou, was director of technical services for Rethymno's prefecture. The Spili fountains, including the design of the lion heads, was Yannis's creation.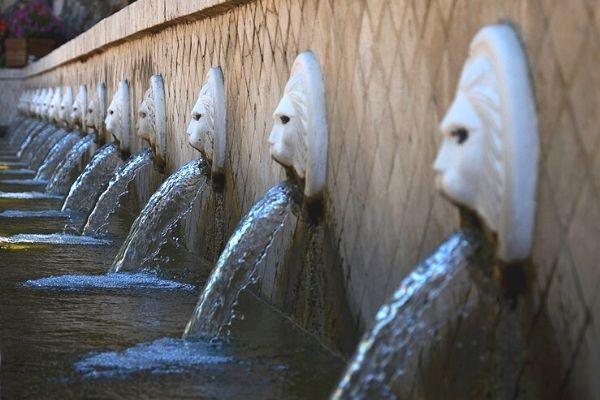 Spili makes an ideal stopping point for travellers to the south, and the Plakias and Preveli areas in particular. Just 11km from the entrance to the Kourtaliotiko Gorge, one of Crete's most magnificent ravines, and east of the Amari Valley (the village of Gerakari is easily accessed from here via a wonderful and easy-to-drive mountain road), Spili is at the crossroads of central western Crete.
For a peak at how rural life was lived in Crete centuries ago, visit the town's eccentric folk museum is recommended. Up a cobbled alleyway, the museum is treasure trove of vintage artefacts, lovingly cared for by the museum's creator and enthusiastic guide, Manolis. No entry fee but donations welcome. Folk handicrafts are a speciality of the village and excellent traditional fabric shops are to be found on the main street. One of the best is just next to the fountains, below the sign for the Platanos cafe.
Spili tastes
To Sideradiko
One of the best tavernas in Crete. Traditional Cretan cuisine at its best, lovingly prepared by owner and chef Nikos, who beckons guests into his open kitchen to view the amazing range of delights on offer, all produced from Nikos's own farm. It's on the left 200m out of town towards Agia Galini. Booking recommended in high season. Tel. 697 369 7116
Kafeneio Raftis
Join the elders of Spili's community for a Greek coffee or raki at this classic traditional no-frills kafeneio on the main street. Cretan hospitality doesn't get more authentic.
Mylos Cafe
Easy going, friendly and contemporary, Mylos makes a perfect snack stop opposite the gushing lions' heads. Good coffee and breakfasts. Tel. 2832 022481
Taverna Maria & Kostas
Maria & Kostas's taverna with its red chequered tables set on their leafy road-side terrace serves traditional Cretan favourites. Family run, simple and friendly. Tel. 2832 022436
Feature image: Wikimedia/Creative Commons/tango7174. Insert image: Wikimedia/Creative Commons/Pavel Spindler